If you're a small or online business owner, chances are you need solid marketing to boost the visibility of your brand and increase traffic to your website.
In the past, marketing campaigns needed a large budget to be successful, but in 2022 there are plenty of advertising ideas you can choose for free.
The main benefits of free business advertising include:
New customers at no cost.
An opportunity to use creativity to separate yourself from the competition.
You can create a community around your business by engaging with your audience.
Of course, while this is all free, remember you still need to put in the time and work to compete with businesses that have larger marketing teams.
Now, let's dive into the 50+ free business advertising ideas available to your business today.
---
---
1. Create a Website
If you're trying to advertise your business for free, creating a website is the very first step you need to take. Having a website will help customers find your business through search engines like Google.
Fortunately, it doesn't take much time and you don't need any coding or design skills. Although there are options to create a website for free, we recommend you invest $3 to $5 per month for a custom domain and website hosting.
Best for: Businesses that want to grow online.
2. Email Marketing
Email marketing is one of the first free advertising routes you should try. The main email marketing strategies you can utilize are newsletters and email marketing campaigns.
You'll first need to build an email list. You can do this by including a signup form on your website to invite people to subscribe to your newsletter. Then, you'll need to choose an email marketing software to manage subscribers, create designs, and send emails.
Once you have an email list, you can send promotional emails about new offerings or newsletters to promote your new content (such as blogs or podcasts).
Best for: Small businesses.
3. Google My Business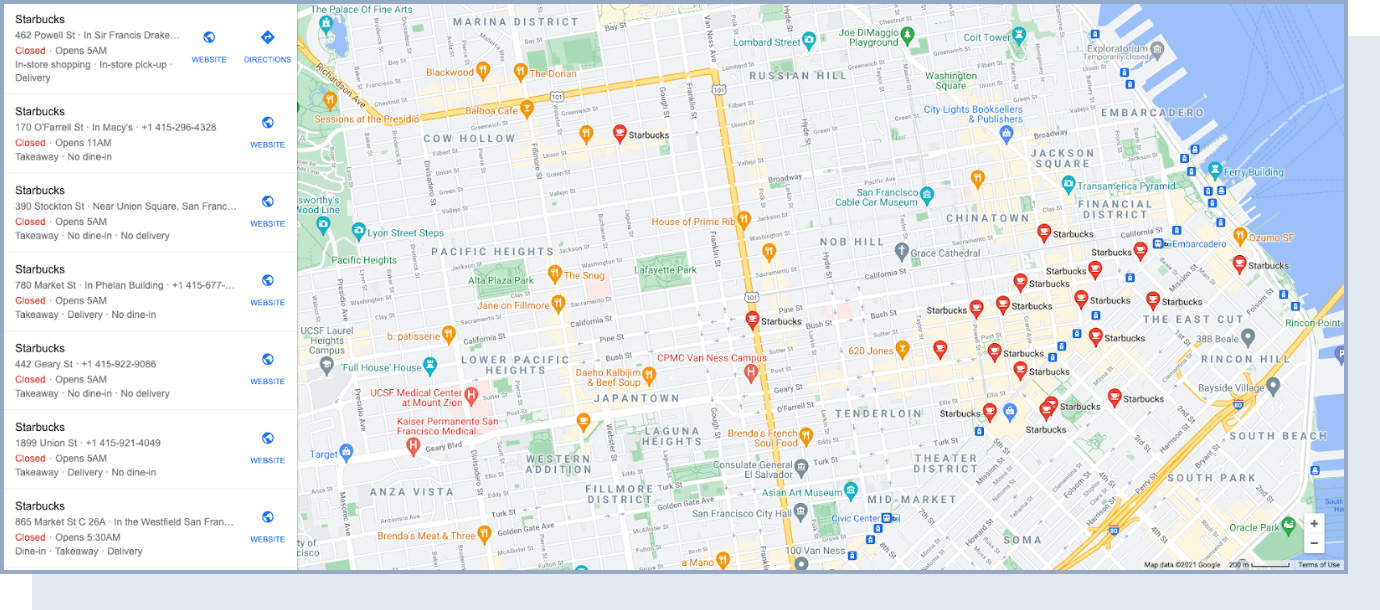 Google My Business (GMB) is the best way to get free local advertising. Considering that 48% of shoppers use Google to get recommendations on what to buy, it's important you help potential customers easily find your business.
We recommend adding photos of your business as this can result in 42% more requests for directions on Google Maps, and 35% more clicks through to your websites than if you don't.
Best for: Brick-and-mortar businesses.
4. Bing Places
Similar to Google My Business, you can add your business to Bing Places to make sure it appears in Bing search results as well.
Fortunately, you have an option to "sync with Google My Business," which will automatically sync all of the information from your Google My Business profile.
Best for: Brick-and-mortar businesses.
5. Apple Maps Connect
We recommend you also add or update your business information to help customers find you in Apple Maps.
Similar to Google My Business and Bing Places, make sure you add contact information, visually appealing photos, and other useful information.
Best for: Brick-and-mortar businesses.
6. Start a Blog
Creating a website is a good starting point to build an online presence. However, with so many websites, your business won't magically appear in search engine results.
Did you know that 77% of internet users read and interact with blogs?
If you don't want to spend money on advertising, your best bet is to start a blog and post content for your target audience. This will increase your chances of your website appearing in search results.
A blog is also an opportunity to interact with your customers, humanize your brand, and collect feedback. Make sure you're consistent with posting new content. If you're running out of ideas, remember there are several types of content you can create for each type of blog.
Best for: Businesses that want to grow their online presence.
7. SEO
Once you have your website and blog set up, make sure you optimize them to appear in search results.
Search Engine Optimization (SEO) is a set of techniques to improve traffic to your website. Since this can be confusing at first, start with some basic keyword research. You can use Ahrefs' free Keyword Generator tool and, if you're using WordPress, install the free Yoast SEO plugin.
Best for: Businesses with a website.
8. Guest Blogging
To make the most out of your content marketing efforts, you should take advantage of guest blogging. By publishing content on other blogs, you will gain exposure to a new audience, and you can add links to your content and website — which is good for both traffic and SEO.
You can use online directories like Best of the Web and Blogarama or do a simple Google search to find the best blog in your category. Once you identify blogs with an audience similar to yours, look for the contact information and send a brief email asking if they're interested in a guest post.
Best for: Businesses with a blog.
9. Accept Guest Posts
Similar to guest blogging, you can invite other bloggers to write guest posts for your website.
By accepting guest posts, you'll get several benefits like more (free) content on your blog, more time to focus on other marketing activities and advertising ideas, and fresh insights into your industry.
But that's not all. Accepting guest posts is also a way to get free advertising. How?
First, more content means more traffic to your blog and website. Second, when bloggers write for you, there's an opportunity to attract loyal readers to your blog. So make sure you ask them to share the post on their social media profiles or newsletters.
Tip: To attract guest bloggers, consider adding a "Write for us" section on your blog.
Best for: Businesses with a blog.
10. Review Sites
If you own a restaurant, hotel, or similar local business, you can use a review site to collect ratings and reviews and attract potential customers.
You can claim a listing on sites like Foursquare, MapQuest, Yelp, Merchant Circle, TripAdvisor, and more.
Best for: Travel and hospitality services, restaurants.
11. CitySearch
If you're the owner of a restaurant, bar, hotel, or similar establishment, you can use CitySearch to list your business for an opportunity to be featured on platforms like Zomato or Expedia. Based on users' ratings, you will get a chance to fall under one of the "best of" lists for one of Citysearch's 20 categories.
Best for: Dining, entertainment, retail, travel, and professional services.
12. Business Directories
While most yellow page sites require you to pay for a listing, many business directories offer free business listings. These provide information about businesses in niche categories.
The most popular free business directories include the Chamber of Commerce, EZ Local, The Business Journals (a news site where you can list your company and add events), Manta, Cylex, EnrollBusiness, Find-Us-Here, and Hub.biz.
Best for: Consumer services.
13. Set up an Email Signature
Whether or not you choose to employ email marketing campaigns, you should set up a professional email signature that highlights the key information about your brand — not only will it make your business look more professional, it's also free advertising!
Elements you should include are the company name and logo, website URL, and physical address. Consider including a promotional banner, social media icons, or a current promotional or special offer.
Best for: Small businesses.
14. Podcasts
In 2020 alone, 55% of the U.S. population listened to a podcast. By talking about topics related to your industry via podcasting, you can increase brand awareness and gain a trusted audience.
If you don't have the budget to purchase podcasting equipment, consider participating in episodes of other podcasts in your industry.
Podcasting is a great way to entertain and educate your audience.
To turn your listeners into customers, make sure you include a strong CTA at the end of each episode.
Best for: Fitness, food, and entertainment services.
15. Vlogs
A "vlog" is a video blog. Instead of writing your content, you'll film yourself talking about it, usually in a relatively short format.
Keep in mind that vlogging requires more work than blogging — you typically need to write a script, record videos, edit the content, and publish it on a video-sharing platform like YouTube.
While professional vlogging might require additional costs for a microphone and webcam, you can start by just using your phone and decide later — based on your results — if it's worth the investment.
Best for: Travel and hospitality industries.
16. Medium
Medium is an online publishing platform that offers writers a space to share their content with a large audience and get paid to do so. In November  2021 alone, Medium had over 175 million visits a month.
As a business, you can post long-form articles and are allowed to promote products and services, but keep in mind there are specific rules you need to follow to post on Medium. In particular, you should avoid calls to action (CTAs) and salesy language, and focus on sharing useful information.
A key advantage of using Medium instead of other publishing platforms is that it provides useful metrics to track your content's performance, including views, reads, fans, views by traffic source, reader interests, and internal vs. external views.
Although you can write about any topic on Medium, it's particularly good for computers, electronics, and technology businesses, since most of the audience is interested in this category.
Best for: Computers electronics and technology businesses.
17. Starter Story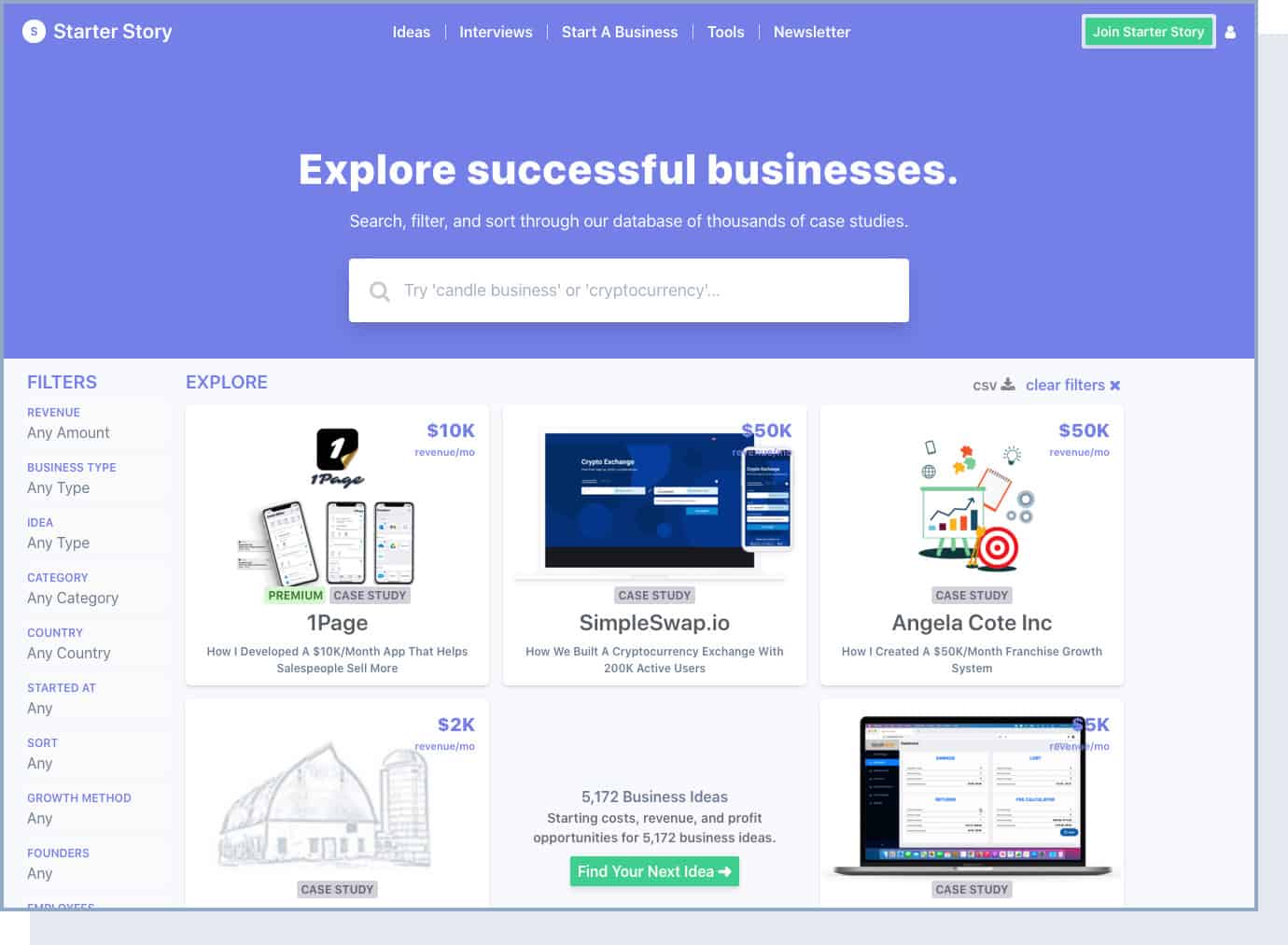 Starter Story is a media company that entrepreneurs in all industries can use to share the stories behind their businesses.
You can participate in an interview for Starter Story to share the mission of your business and attract customers as well as potential investors. You will talk about how you got started, how your business grew, and how you're running your business today.
Best for: Startups and small businesses.
18. Facebook
With more than 2.6 billion monthly active users, Facebook is the most popular social media platform in the world.
When it comes to advertising, you can open a Facebook page to promote your business for free. Make sure you include your phone number, address, email address, and hours, and add updates regularly. You can either drive traffic to your website or add a shop section so users can buy directly through Facebook.
To boost visibility, you can join Facebook Groups that are related to your industry or create your own Facebook group — this is a great way to grow a community around your brand.
Best for: Businesses that want to grow online.
19. Instagram
After Facebook, Instagram is the second most popular social media app in the United States. To advertise for free on this platform, start by setting up a business page, posting visual content, and engaging with users through comments and direct messages.
Because of its growing popularity, Instagram is one of the best social media channels to increase brand awareness. Similar to Pinterest, you can use Instagram to post visual content like photos and videos.
Since there isn't a straightforward method to include links in your content (except for swipe-up links that you can use if you have a verified account with more than 10,000 followers), Instagram is not the best option to drive traffic to your website. Your focus should be on increasing awareness and interacting with your audience.
Best for: Education, entertainment, fashion, food, health, real estate, retail, and service industries.
20. Twitter
Twitter is an informal communications tool that can be used to interact with your audience. Create a Twitter Page to post about news, products, and events that are relevant to your industry and your audience.
Use Twitter to establish yourself as a thought leader. It's the perfect platform for consultants and freelancers.
You can also try Twitter Chats to get your name out there. If you don't want to host your own, you can start by looking for existing chats in your industry and begin sharing your thoughts in existing chats. You can use the Twitter Chat Schedule to find existing chats or add your own.
Best for: Consultants, freelancers, and B2B companies.
21. YouTube
A survey found that 93% of marketers using video say that it's an important part of their marketing strategy, and there's a reason for that.
Video content is one of the most engaging formats and provides an opportunity to repurpose other content like blog posts to be offered in a more digestible way.
With more than 2 billion users and one billion hours watched every day, YouTube is the best platform for free video marketing advertising.
The best way to leverage YouTube for advertising is to create how-to videos on topics related to your products and services. Alternatively, you can use it to share lifestyle videos and showcase your brand.
Best for: Education, travel and hospitality, non-profit, and real estate businesses.
22. LinkedIn
Popularized as a platform for professional networking, today you can use LinkedIn as a blog, establish yourself as an expert in your industry, and promote your business.
We recommend you set up both a personal profile and a company page. Using a personal profile can help you humanize your brand and connect with potential customers. But having a company page as well will help you have a point of reference for potential buyers.
Best for: B2B companies.
23. Pinterest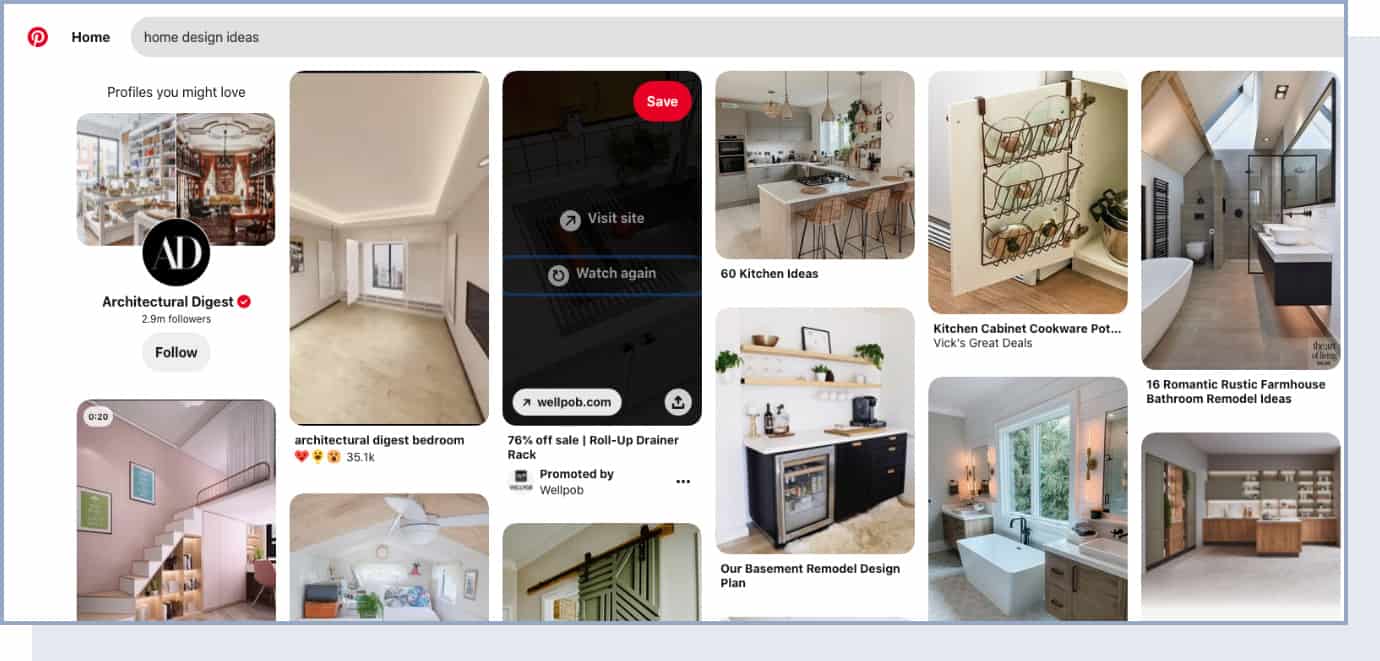 On Pinterest, you can share images to showcase what your brand is all about. You can also promote your products or services on Pinterest through imagery, but make sure you also publish creative content if you want to attract users. The goal is to stand out and spark interest!
Pinterest is perfect for "visual industries" like food, fashion, and furniture, but is also helpful in industries where you need to convey complex information without overwhelming your audiences — such as finance, health, and real estate.
Best for: Food, home, and fashion industries.
24. BizSugar
BizSugar is a social platform for small businesses and midsize companies. As a business owner, manager, or entrepreneur, you can use BizSugar to share business stories, tips, and videos. You can also repurpose your content and direct visitors to your blog or website.
Best for: Small and midsize companies.
25. Webinars
A webinar is a video lecture — or online seminar — where you can teach your audience how to do something related to your industry. Hosting a webinar will help you establish yourself as a thought leader, boost engagement, and give a face to your brand.
Webinars are the preferred content format for 91% of B2B professionals when they want to stay updated with the latest industry trends.
To increase the number of attendees, you can look for experts or executives in your industry who've participated in webinars or conferences in the past and invite them for interviews.
Best for: B2B companies.
26. Workshops
Workshops are similar to webinars, but they usually have smaller audiences and are focused on training rather than teaching. Because of this, they're more interactive and engaging.
You can put together a workshop at a local community center, library, industry association, or another organization that is willing to promote your workshop and your brand.
Best for: B2B companies.
27. SlideShare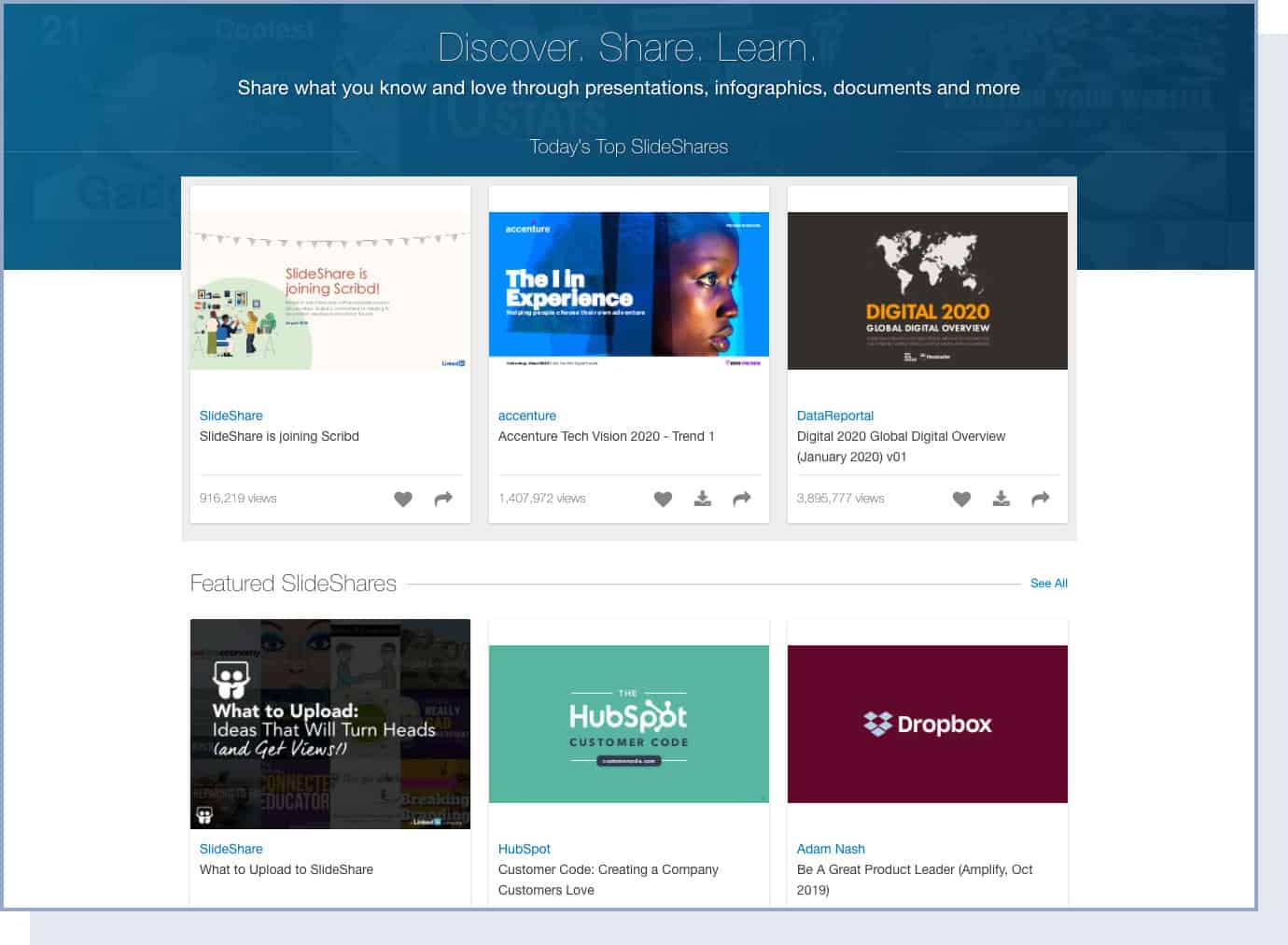 If you have visual content creation skills, consider using SlideShare. SlideShare is a website with 60 million monthly visitors and 130 million pageviews where users can share and access professional content like presentations, infographics, documents, and videos for free.
You can repurpose existing content you have into visually appealing and easy-to-consume content like presentations, and upload them to SlideShare with a link to your website.
While you can use SlideShare in any niche, the top industries that use SlideShare are computer software, information technology and services, and marketing and advertising.
Best for: Computer software, information technology and services, and marketing and advertising businesses.
28. Public Speaking
If you don't feel ready to host your workshop or conference, consider attending an event as a guest speaker.
Look for events that are related to your business or industry where you can position yourself as a thought leader and provide valuable information. The idea here is to put your name in front of an audience that could be interested in your service offerings.
Best for: B2B companies.
29. Online Forums
Online forums are online communities where consumers discuss products and services and share advice.
The main advantage of forums is that, with almost 16,000 types of forum software available and more than 110,000 online forums, you can find one in any industry or niche.
Use online forums to repurpose your content, publish new information, and drive traffic to your website to generate new leads.
The key to success is showing your expertise and being helpful. To get started, look for the right forum for your industry and audience. You can take advantage of one of many online forum search engines (like Boardreader and Find a Forum).
You'll then have to become involved in the discussions. Almost all online forums and communities have specific rules, so make sure you review these carefully. Don't spam or be too promotional. Instead, aim to provide valuable information for the members.
Best for: Small businesses.
30. Reddit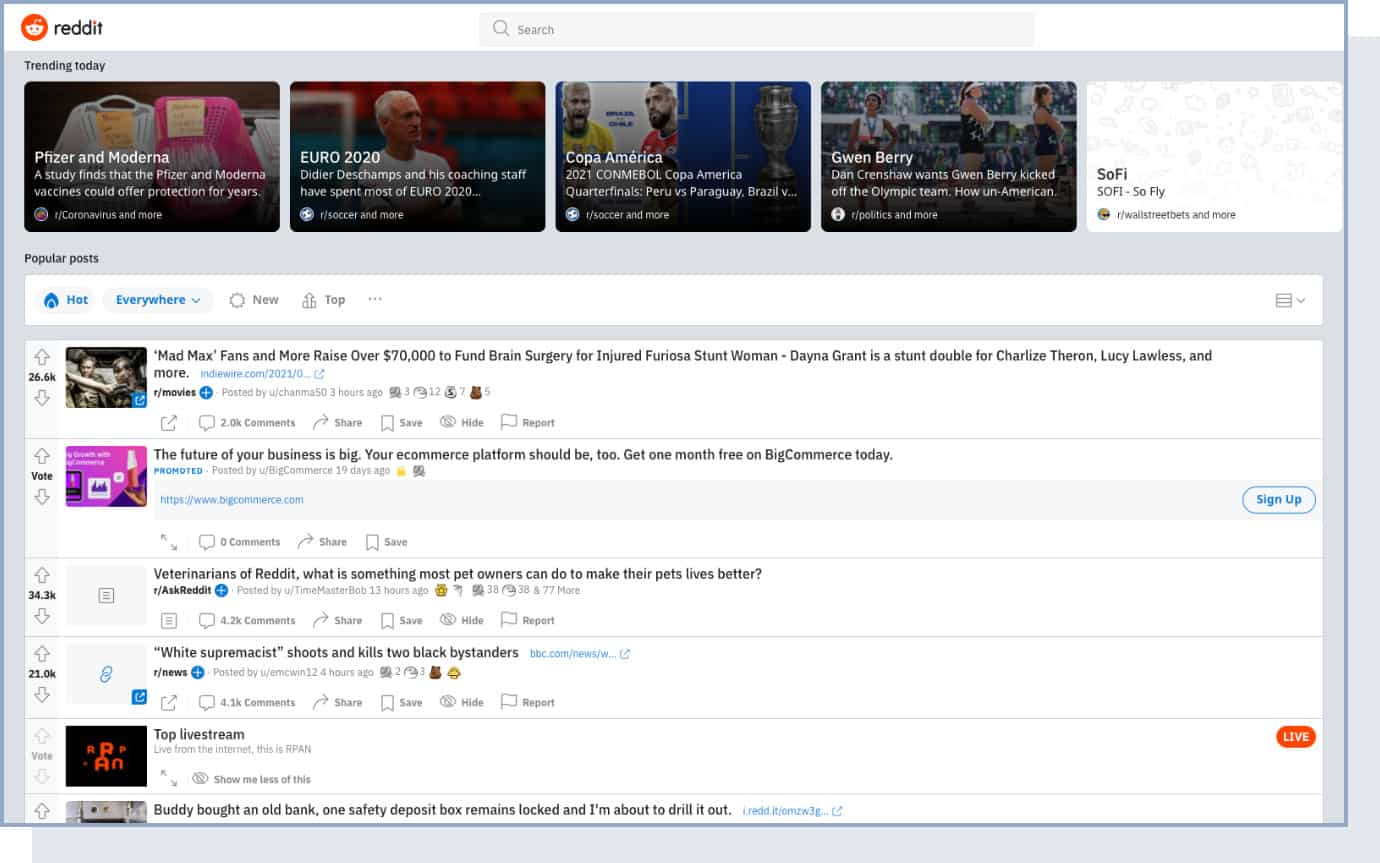 Reddit is a discussion platform with sections — called subreddits — for almost any topic you can think of.
You can use Reddit to post content related to your industry and promote the content on your website. But keep in mind that self-promotion could get you banned.
Make sure you read the subreddit regulations and always make your content informative and useful rather than promotional.
Best for: Small businesses.
31. Fiverr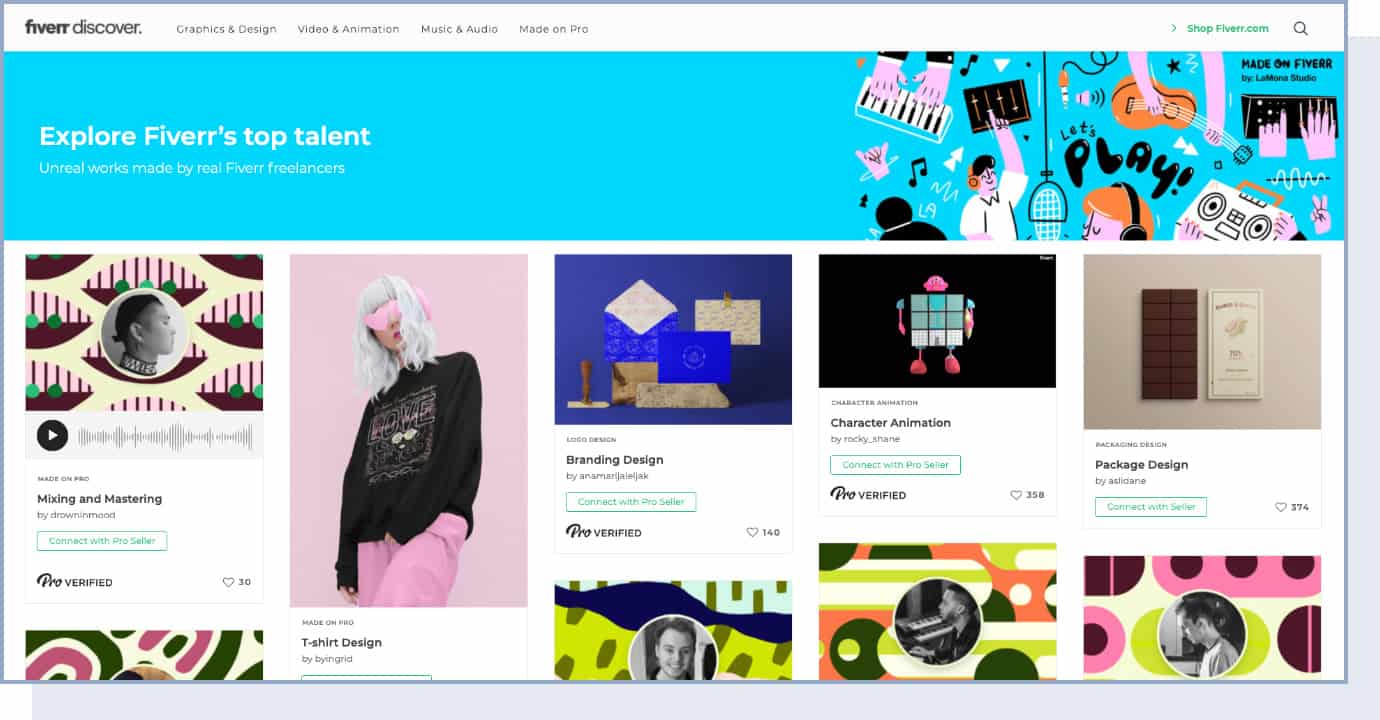 Fiverr is a platform where users can sell professional services like web design, copywriting, and video editing.
As a business, you can set up a profile for free, and use Fiverr as a free advertising platform: potential customers will find you by looking for keywords related to your services
Best for: Professional services.
32. Platforms for Creative Professionals
If you're a creative professional, you can take advantage of many online networks to share your work and build a brand.
For example, Behance is a network of creative professionals where you can set up a portfolio and showcase your work. It's the perfect place for photographers, UI and UX designers, web designers, and others to get free advertising.
Other online platforms for creative professionals include Dribbble, ArtStation, 500px, and 99Designs.
Best for: Creative professionals.
33. Amazon Kindle Publishing
If you're an ebook author, Amazon Kindle Publishing is hands down the place for free advertising.
And here's the thing: you don't have to be an author to use this platform.
If you wrote one or multiple long-form articles for your business, you can repurpose them into ebooks and use Amazon Kindle Publishing to share them for free and generate interest.
Best for: ebook authors.
34. Consumer Service Platforms
If you run a local service business like house cleaning, lawn mowing, or massage therapy, there are many platforms you can take advantage of to get free exposure and find local customers.
The most popular platforms for consumer service businesses are:
Thumbtack
Taskrabbit
Wonolo
Angie's List
Nextdoor
Care.com
Best for: Local professionals.
35. Alignable
If you're a small B2B company, you will benefit from joining a B2B networking platform where you can build trusted relationships and generate referrals.
When it comes to small and micro-businesses, Alignable is the perfect alternative to LinkedIn. Look at it as the local coffee shop of B2B companies, where you can meet other small and micro-business owners, and find new customers.
Best for: Small B2B companies.
36. Help a Reporter Out
Help a Reporter Out (also known as HARO) is an online service where journalists can connect with experts on topics relevant to their reporting.
You can sign up for HARO and become a source for journalists who need advice and quotes from an expert to include in their stories. All you need to do is provide your quote on the topic you choose. If you're selected, your business will receive free media mentions, exposure, and awareness, and you get a chance to receive links back to your website.
Best for: Small businesses.
37. Quora
Quora is a question-and-answer website where users can ask and answer questions on any topic. To utilize this platform, look for questions that are related to your industry and target audience and leave informative answers.
This is an opportunity to establish yourself as a thought leader in your industry, increase brand awareness, and also promote content on your website. But make sure your answers are not overly promotional — focus on answering the question and giving your best advice.
For example, you can include a detailed answer on a topic you've written about, and include a link to the article on your site or your products at the end, inviting readers to visit it for more information.
Best for: Small businesses.
38. Newspapers and TV News
Look for newspapers, TV news, and trade publications that cover news related to your industry. If you're a small business owner, we suggest you start with the local press.
To succeed, make sure you have a remarkable or interesting story to share, and then contact reporters who have covered similar stories in the past — these are the reporters that are most likely to share it.
Best for: Small businesses.
39. Radio Appearance
Another option for free advertising is to appear on a local radio station. This is especially good if you're a small local business and want to put your name out there and let people know about your offerings. It provides an opportunity to target audiences and rely on media like the radio for news.
Tip: Offer to provide an opinion about a news story you're knowledgeable about in exchange for a mention of your business.
Best for: Small businesses.
40. Press Releases
Consider writing a press release to deliver information about your business.
You can talk about a new product, a local event your business is hosting, or your overall mission statement. Make sure the content is well written and include a link to your website and social channels, inviting readers to learn more about your business.
Once your press release is ready, you can submit it to press release websites that journalists regularly visit. Some of the most popular press release websites are:
Newswire
Presswire
PR Newswire
24-7pressrelease.com
PRWeb
A press release is one of the best opportunities for small businesses and startups to gain traction and generate interest, especially if they have an interesting story or mission statement.
With a well-written press release, you'll be able to build credibility, gain a following, and generate new leads. Not to mention your story might become an overnight success.
Best for: Small businesses and local startups.
41. Public Bulletin Boards
As a small local business or entrepreneur offering consumer or professional services, simple bulletin boards are the best way to get free advertisement.
Go to grocery stores, libraries, gyms, churches, laundromats, and similar public places, and you'll probably find some bulletin boards where you can leave business cards or tear-off strips promoting your business and offering your services.
Best for: Local consumer services.
42. Flyers
If you're a small business offering services locally, you can create flyers about your service offerings and leave them around your neighborhood or at local cafes, bars, or restaurants.
Although this is not exactly free, you will only pay a few cents per piece to get flyers printed professionally, or you can even create and print them yourself. For local services, flyers are often all you need to put your name out there and get new customers.
Best for: Local consumer services.
43. Guerrilla Marketing
Guerrilla marketing is a strategy consisting of low-cost, unusual marketing tactics you can use to promote products or services. The goal is to create buzz around your brand.
Here's an example: to celebrate the launch of its newest underwear collection in 2010, Gold Toe dressed up famous New York City statues in underwear during New York Fashion Week. As a result, the brand gained the attention of social media and free press coverage from New York Fashion Week.
The main benefit of guerrilla marketing is that you can leave a long-lasting impression on consumers who'll want to learn more about your products and services. If you're creative enough, you'll be able to go viral and reach a large audience.
Since you don't necessarily need a budget for guerrilla marketing, we recommend you try this strategy if you want to find an innovative way to increase awareness for free.
Best for: Small or medium-sized businesses.
44. Referral Marketing
Referral marketing is a word-of-mouth technique you can use to incentivize your customers to introduce friends, family, and colleagues to become new customers.
Referrals are some of the best ways to generate new leads for your business, especially for B2B companies. According to a survey of B2B professionals, 78% of marketers say that referral marketing produces "good" or "excellent" leads. Additionally, research shows that 86% of B2B companies with a referral program experience growth.
Best for: B2B companies.
45. Etsy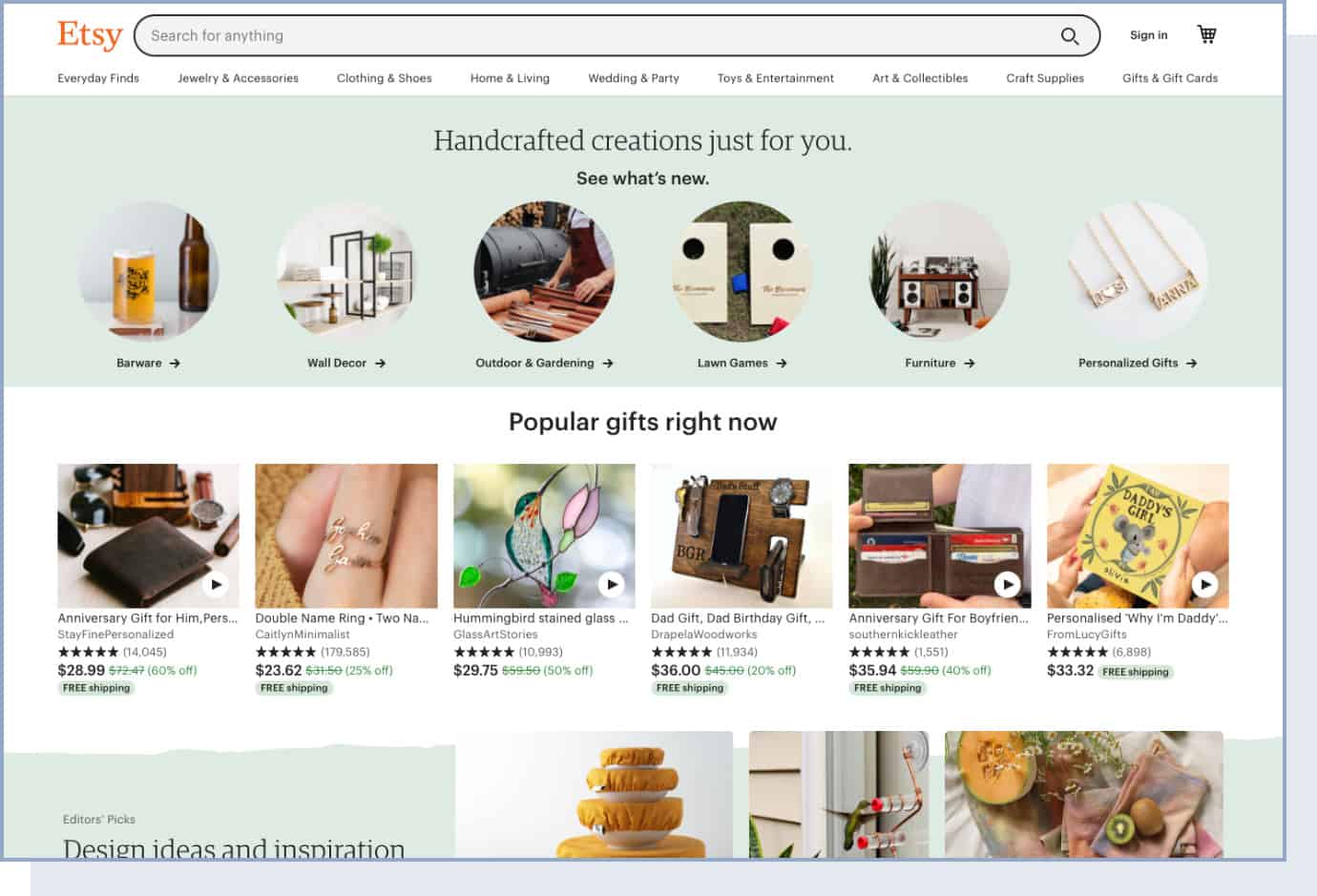 Etsy is an eCommerce marketplace for handmade products. You can set up a shop for free and only pay for listing items ($0.20 for each item) and transaction fees for each sale.
Etsy provides an opportunity to add your products to a new platform where users can find your brand by searching for keywords and categories related to your products.
Best for: Artisans and artists.
46. Professional Associations
Professional associations are organizations for professionals in the same field. While some of these require a membership fee, you can find associations that are free to join in every industry.
In addition to providing ongoing learning, research, and professional development, professional associations provide an opportunity for you to network and build relationships with potential customers, business partners, and people who might refer you to other customers.
Best for: B2B companies.
47. Cold Calling
Cold calling is a sales technique in which you contact potential customers who have not previously expressed interest in your offerings. It's not an easy practice, with an average conversion rate of 2%.
But if done well, it can prove successful, particularly in the B2B industry. According to a study by RAIN Group Center for Sales Research, 82% of buyers accept meetings with sellers who proactively reach out, and 57% of C-level buyers prefer that salespeople call them.
Because of its low conversion rate, cold calling is best for products with a high margin and a low commitment offer (for example, if you offer a free trial).
To be successful, make sure you research your prospects and know how you can convince them based on their interests and needs. Prepare a clear and compelling value proposition, and follow up with prospects who seem to be interested.
Best for: B2B companies.
48. Advertise on Your Vehicle
Research by ARD Ventures found that vehicle advertising can generate between 30,000 and 70,000 daily impressions. Of course, this number will vary depending on where and how often you drive around.
By adding your business information to your vehicle, you'll attract potential customers every time you take your car out.
While not exactly free, car advertising only requires a one-time upfront payment (which can vary depending on your needs) and will be free advertising for years to come, with little to no maintenance needed.
Keep in mind that, depending on where you live, it may be illegal to advertise on a car, so make sure you check your state and local laws.
Best for: Small and local businesses.
If you're just starting to promote your business, you should interact with online communities related to your industry.
Start by finding relevant blogs and leaving comments on blog posts and articles. You can provide additional information, ask questions, and occasionally link to your content and offerings if you think other readers could be interested.
Best for: Small businesses.
50. Ask for Reviews
Reviews are important for all businesses. The types of businesses where consumers are most likely to have read reviews are restaurants, hotels, medical, automotive, and clothing stores. But reviews are useful in all industries. A 2020 survey found that 72% of consumers in the United States have written a review for a local business.
And the best part? Getting reviews is completely free.
How do you get reviews? Just ask your customers to leave reviews on Google, Yelp, Facebook, BBB, or Tripadvisor.
You can also send out an email survey. A study found that about 75% of customers are willing to answer surveys with one to five questions.
Best for: Local businesses.
51. Product Hunt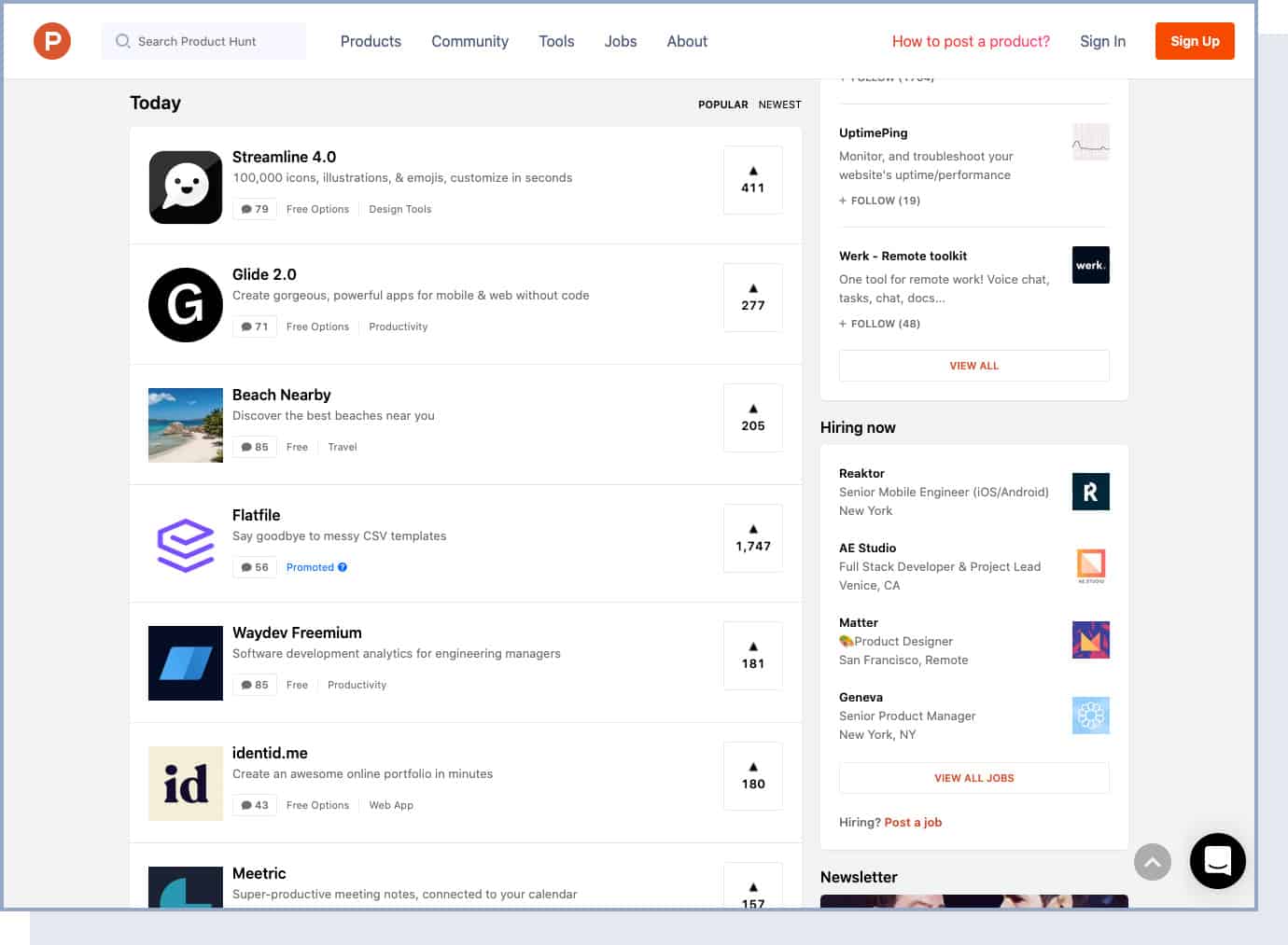 If you're a software developer or company, take a look at Product Hunt — a free website where users share and discover new products that get reviews, comments, shares, and upvotes.
Product Hunt is mostly for relatively unknown tech products and, as the site mentions, "products that are available to use, download, or purchase immediately get priority." Learn more about how to post a product on Product Hunt's Pro Tips page.
Best for: Software products.
How to Get the Most Out of Your Advertising Efforts
To get the most out of the free advertising ideas above, keep in mind the following tips:
Combine paid with free advertising: Many businesses use ads but fail to create a sustainable strategy that combines both advertising methods — and end up paying forever to acquire customers. Free advertising is exciting, especially for small businesses, but don't think it will get you quick results. Paid advertising, on the other end, can give you immediate results but can get very expensive. Having a mix of paid and free advertising is a great way to get short-term and long-term wins.
Optimize for user engagement: Make sure the topics you share are always relevant to your audience and invite them to interact with your content by leaving comments. Then, try to interact with potential customers by answering the comments and starting a discussion.
Track your results: No matter what free advertising platform you choose, make sure you track results. With this insight, you'll be able to understand which type of advertising method works best for your audience, and you'll know where to focus your efforts.
Use the right tools: As a final tip, make sure you're using the right tools to make your job easier and automate advertising activities. In particular, take advantage of free tools for social media tracking, email marketing, and website analytics.
As you can see, there are plenty of ideas you can use to advertise your business for free in 2022. We recommend you start with basic ideas like a website, blog, and email marketing, and then move on to more advanced advertising ideas.
Check out the infographic below for an overview of how to get started with free advertising.